We are proud to announce that
Twelve Data
, a premium financial market data provider, will operate a
Chainlink
oracle node to supply smart contracts across blockchain networks with high-quality data on stocks, forex, crypto, and other financial assets. Given the rise of the Decentralized Finance (DeFi) ecosystem, we are seeing growing on-chain demand for premium financial market data, presenting an ideal opportunity for us to expand our operation into these new blockchain markets. Integrating with Chainlink gets us blockchain-enabled across all the leading networks, allowing us to securely and reliably supply smart contract applications with cryptographically signed data via a time-tested and battle-hardened oracle software.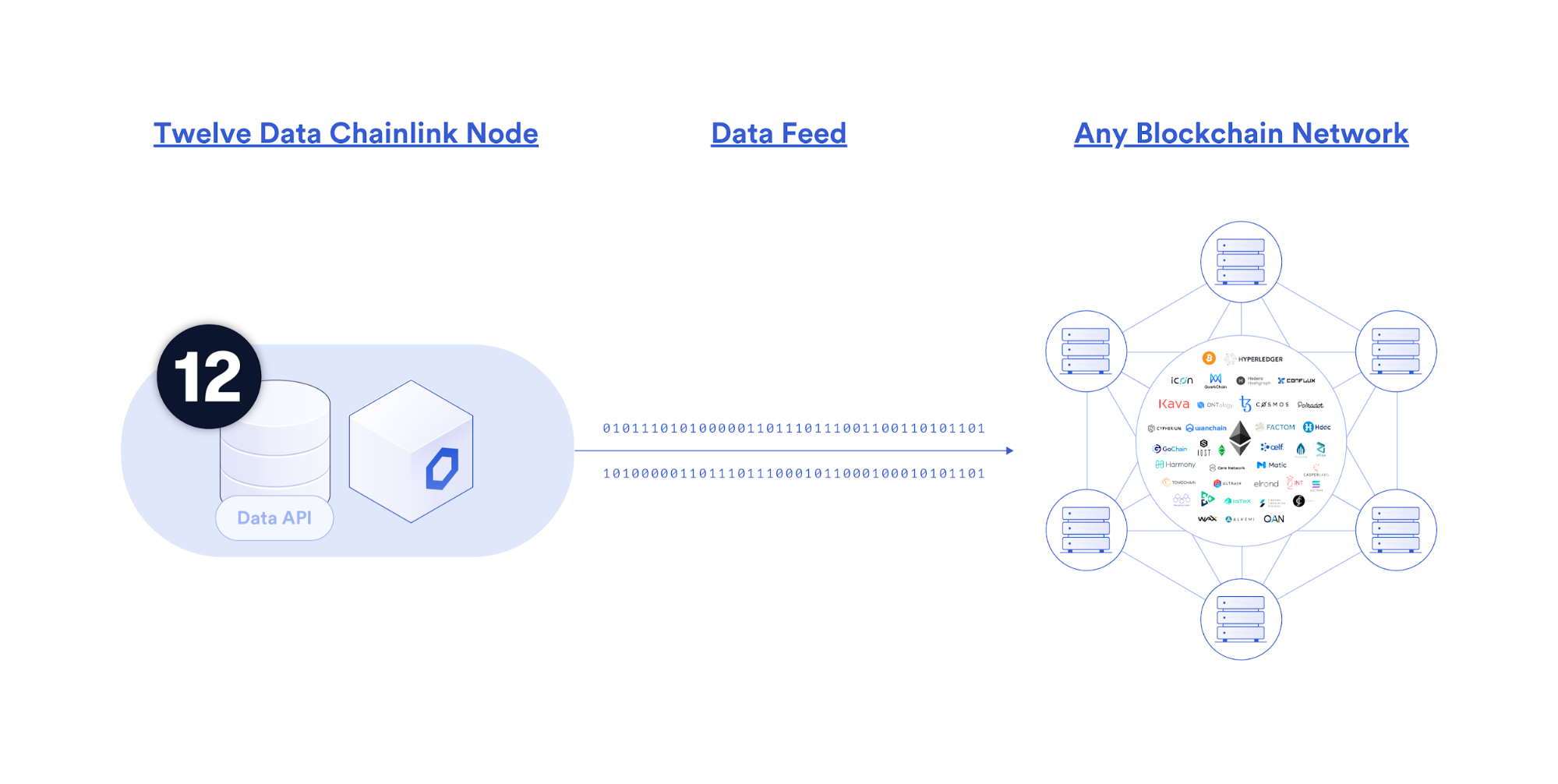 Chainlink is the market-leading decentralized oracle solution, actively securing billions of dollars in on-chain assets for top applications in the DeFi ecosystem. By joining the Chainlink Network and running our own node, we are now able to provide developers across any blockchain environment with the ability to access our entire suite of premium data APIs. This will enable the creation of more advanced and secure automated financial protocols such as money markets, stablecoins, decentralized exchanges, derivatives, and much more that has yet to be imagined.


Making the Twelve Data APIs Available to the DeFi Ecosystem
Twelve Data is a leading data aggregation firm that compiles financial market data for a wide range of asset classes including stocks, forex, crypto, ETFs, indices, and more, ultimately generating high-quality reference data. Through APIs, websockets, SDKs, and other easy to use tooling, we provide everything developers need to build a successful trading system, fintech product, or research project.


Our financial market data provides global coverage across hundreds of traditional and cryptocurrency exchanges, comes in a wide variety of data formats (JSON and CSV), and can be queried in under 170ms on average. Twelve Data APIs are institutional grade and are already trusted by the largest financial firms in the world, averaging 700M API requests a day for 80k+ financial assets.


With the DeFi ecosystem rapidly expanding and increasing in its demand for financial market data, we see this as a perfect opportunity to expand our user base. However, due to the inherent security properties of the blockchain, DeFi applications are unable to natively interact with external APIs, creating what is known as
the oracle problem
. In order to overcome this, we required an additional piece of infrastructure known as a blockchain oracle, which can deliver external data from our API to blockchains in a secure, reliable, and properly formatted manner.
After reviewing numerous oracle solutions, we found Chainlink to be the most secure, reliable, and flexible solution on the market, while at the same time providing us the largest collection of users to sell data to. Some of the key features we found unique to Chainlink include:


Data Integrity – Chainlink's oracle node software enables us to cryptographically sign each data point, providing smart contracts definitive proof that data came from its original source.
Blockchain Agnostic – Chainlink nodes can be connected with any blockchain network, providing us a single gateway for selling data to smart contracts operating on any current and future blockchains.
Broad Adoption – Chainlink is the most widely used oracle network in DeFi and secures a large and growing amount of value ($5B+ USD), presenting a large consumer base for us to tap into.
Security Focused – Chainlink oracles operate using thoroughly audited open-source software built upon strong academic research and maintained by a large and growing developer community, ensuring high levels of security and reliability.
We are proud to join the Chainlink Network as an oracle node operator and help grow the DeFi ecosystem as a whole by broadcasting high-quality financial data for a wide array of asset classes directly on leading blockchain networks. We plan to establish a strong reputation as a secure and reliable Chainlink node, ensuring smart contracts receive the highest quality data in a timely manner that's reflective of the current market wide price of any financial asset.


"Joining the Chainlink Network as a node operator empowers us to provide developers building DeFi applications on a variety of blockchains with access to our highly refined premium financial datasets. Additionally, the ability for Chainlink oracle nodes to cryptographically sign data serves to bootstrap additional security guarantees on our data, ensuring it can be trusted to automate value exchange between users on the blockchain." - Twelve Data


About the Chainlink Network
Chainlink is the most widely used and secure way to power universal smart contracts. With Chainlink, developers can connect any blockchain with high-quality data sources from other blockchains and real-world data. Managed by a global, decentralized community of hundreds of thousands of people, Chainlink introduces a fairer model for contracts. Its network currently secures billions of dollars in value for smart contracts across the decentralized finance (DeFi), insurance and gaming ecosystems, among others.
Chainlink is trusted by hundreds of organizations to deliver definitive truth via secure, reliable data feeds. To learn more, visit
chain.link
, subscribe to the
Chainlink newsletter
, and follow
@chainlink
on Twitter.
About Twelve Data
Twelve Data is a technology-driven company that provides real-time financial data, financial tools, and dedicated solutions. With Twelve Data, a wide range of users starting from individual traders and researchers and up to the fintech and financial institutions have reliable access to international markets. Comprehensive data coverage, together with stability and various convenient methods of acquiring the data, are the key ingredients for a successful in the financial industry.
Across the decentralized system spread around the globe, Twelve Data can be serving hundreds of millions of requests each day and to provide data on tens of thousands of instruments simultaneously. To find out more, visit
twelvedata.com
, and follow
@TwelveData
on Twitter.